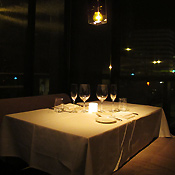 Table 21, The Source
In an otherwise lively dining room, this corner table delivers glass on two sides and plenty of privacy. All the better for you to contemplate your date—and her Wok-Fried Whole Sea Bass.

Why it's right: This has been the table of choice for privacy-seeking VIPs like Pierce Brosnan, Clooney and Harrison Ford. Oh, and the dashing David Axelrod.