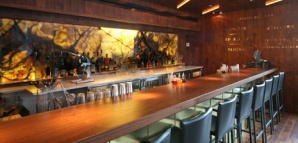 We're relatively easy.

Combine two things we love: the freewheelin' bars of northern Italy and the sophistication of old New York, and we'll be by for breakfast, lunch and dinner (not to mention a late night Negroni). Thankfully Bar Milano, just opened at 7am this morning, is willing to oblige.

Just far enough south to skirt association with the Third Avenue circus, owners Jason and Joe Denton ('inoteca, Lupa) confidently put stake to soil on a seemingly lost corner. But they shouldn't be worried. Looking out the giant picture windows that wrap around the corner bar, you'll enjoy the show walking by outside almost as much as passersby will regret not having a seat next to you at the Prosecco and Italian spirit heavy bar. Show up a half hour before your date to sample a Rattlesnake cocktail or three, and you may find yourself a bit resistant to give up your seat.

If she's able to ply you away from the slab, make for the carpeted, arch-ceilinged dining room that's lorded over on one side by a wall of patchwork marble, and on the other by a wall of wine. The menu's all northern Italian bravado, but with some fine dining influences: Coniglio Fritto(Fried Rabbit, Dried Apricots, Carrots) and Pinci con Seppie (Pasta,Cuttlefish, Razor Clams) were of particular interest.

Or, if you're more of an early riser (or more likely just finishing your night), breakfast starts at seven.

See, easy.