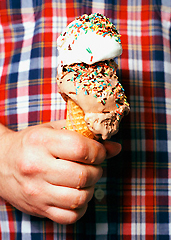 It's pretty simple, really.
What we're about to tell you is quite possibly the single best thing to happen to humanity since pants.
Okay, so that was a bad example. Also, it's not.
But still...
We thought you might like to hear about
Morelli's Ice Cream Delivery
service, a brand-new offering from the very same creamsmiths who had the common decency to turn things like gin and tonic or banana moon pies into ice cream, available now.
Here's the situation: it's dark outside. Your home theater stands at the ready... and you have company. A fire crackles at your feet as you hit the play button, casually slip into a Couples Snuggie and crack open the first bottle of red. In other words, sooner or later you're going to work up an appetite.
Help is on the way. Or at least it will be after you hop online or make a quick call to Morelli's (they're open late), at which point your his-and-hers waffle cones with a double scoop of
Maple Bacon Brittle
or
Coconut Jalapeño
ice cream will be carefully packaged, placed on a bed of dry ice and delivered straight to your door... regardless of where that door may be.
Oh, and that reminds us. If the website says your ZIP code is unavailable for delivery, it's just a temporary hiccup, and they're working on it—so you might need to order by phone for the first few days.
A small price to pay for glory.