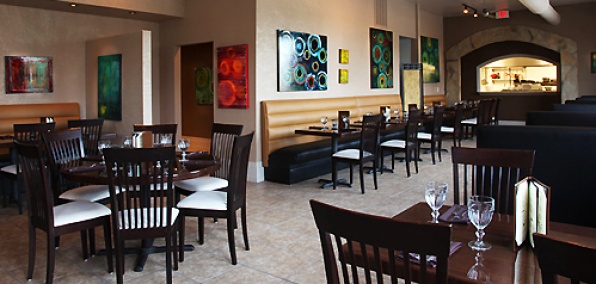 The Bishop Arts. Let's review.
You've got your date spots (a certain cozy pizza kitchen). And you've got your date spots (a certain Texas roadhouse).
And now, we bring you... another date spot. But this one's got a sax guy.
Welcome to
Decanter
, a date-worthy new wine lounge and Mediterranean-style kitchen, open now in the Bishop Arts District.
Imagine your favorite Sinatra-loving, pasta sauce–stirring Italian joint. And now, imagine
something a little different
. Instead of meatballs, you'll find lamb chops and seared mahi-mahi. And instead of Ol' Blue Eyes, you'll find... Vandell, the in-house saxophone player, there every Thursday, Friday and Saturday. (Go ahead, request "Scenes from an Italian Restaurant.")
So let's say you find yourself craving ahi tuna with a side of alto sax. If it's daytime, you'll step into what feels like a breezy stucco on the Mediterranean (assuming said stucco has a massive blue-tiled bar). And if it's night, you'll find the same breezy stucco vibe, only dimmer and date-ier.
Say hi to Vandell as you settle into a black booth and order up some vino. Then, you'll feast on
Pesto Chicken Flatbreads
, Black Angus rib eye or maybe some
Fisherman's Stew
(mussels and calamari are involved). And then, you'll probably want to end the evening with a
Raspberry Rhubarb Napoleon
.
Saxophone always makes you crave rhubarb.