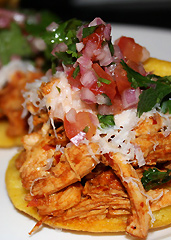 Certain things just aren't done here. Wearing an Eagles jersey this weekend. Quartering soldiers in peacetime. Chasing down Cuban and Brazilian food in the middle of January.
Better check that last one.
Because today we'd like to introduce
Sabor'a Street
, a new mobile lab of Latin street-food innovation, expected to hit the streets within the week.
When you see this bright yellow, orange and green van rolling toward you, it might remind you of your last trip to Carnival (albeit with fewer beads and a lot more clothing).
After
following them on Twitter
, you'll likely run into them during lunch, when you'll no doubt gravitate to the
Fritas
, Cuban-style sliders with steak, chorizo and manchego cheese. (Hint: you'll want to upgrade your sliders. We know this because the upgrade is a fried egg.) On the side: some fried yucca or plantains and Guarana Brazilian soda.
But man cannot live on lunch alone. We have it on good authority that he also lives on breakfast burritos and donuts at 2am. And so, there you'll find the truck in front of your favorite weekend bars, hawking burritos stuffed with eggs, bacon, sausage and salsa, as well as fresh churros with dulce de leche sauce.
And if chasing down the truck isn't for you, they're available to cater your next party.
No, you don't have to party on the sidewalk.