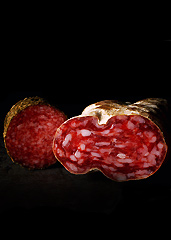 Well, you made it.
Welcome to the first second decade of the third millennium of the rest of your life.
We'll give you a second to digest that...
Okay, now that we're back on the same page (and on the subject of firsts), we thought this might also be an appropriate time to introduce you to your future.
Or at least the meat truck part of it...
Behold the inevitable rise of
Farm Mobile
, the city's first four-wheeled meat market, proudly making its inaugural voyage next Monday for your Berkshire porking, grass-fed beefing pleasure.
Before we go any further, we should probably mention that the people behind this little stroke of meaty genius are the same ones who've been stocking the kitchens of places like Restaurant Eugene, 4th & Swift and Bacchanalia for years now.
So once you've
pinpointed its location on Twitter
(expect regular sightings at Oakhurst Community Garden and Muss & Turner's), you'll want to stroll up to the repurposed Mac Tools truck, where you'll be faced with a mobile cornucopia of sausages, barrel-cut filets, Berkshire pork and farm-raised chickens (yes, you just bought a chicken out of a tool truck).
And since no home-cooked dinner party would be complete without the proper accoutrements, you'll also be able to stock up on things like milk, eggs and Holeman & Finch bread.
You expect nothing less from your tool/meat trucks.