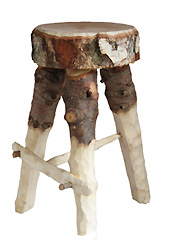 You've opened the presents. Sipped the nog. Hot-tubbed in champagne.
And so, as the new year quickly becomes just "the year," there's only one tradition left to check off your list.
We're talking, of course, about turning your Christmas tree into a footstool.
Introducing
The Christmas Tree Project
, a pop-up concept from a carpenter in London who will transform your cast-off tree into a hand-carved stool, taking orders until January 6.
If you're looking for a way to turn your tree into a hand-whittled chunk of rugged decor—and frankly, we don't see why you wouldn't be—this is it. If you happen to be in London, they'll pick up your tree and, after a month's wait, return bearing a hand-carved stool made from the very same pine-scented wood. If for some reason (possibly relating to your fling with Kate Middleton) you don't live in London, they'll just use a discarded tree from one of the tens of thousands littering the streets of the city.
Then, an art student/master whittler (that old story) will take said tree and shape it into a rugged footstool—with a slice of the trunk as seat, and boughs bracing the legs—preserving any character-building scratches it picks up along the way. The wood isn't sealed or treated, so you'll also get the smell of pine year-round.
Using your wreath as a seat cushion is not advised.