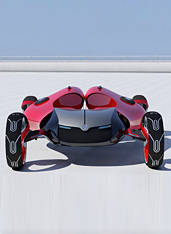 The bleeding edge. You're not afraid to live there. So we keep you one step ahead every day. But occasionally, you need two steps. That's when we tell you about a design that's still on the drawing board, but could forever change your life. Or at least your commute.

Motorcycles and Chicago winters. Generally, not a great match.
Or so we've been led to believe.
In the very near future, however, your dilemma between a sensible car and a good-for-one-season motorcycle may come to a screeching, fishtailing halt. But one caveat: you're going to need a sidekick.
Here for your consideration, we present the
Modular Motorcycles/Car
, a design concept for a car that splits into two motorcycles, forever changing the meaning of hybrid vehicles.
The idea comes, naturally, by way of a graduate student in India, who was trying to figure out how to zip around Mumbai traffic while also having a smoking roadster. The idea is that two people could share the cost of one car, but each keep their own respective motorcycle.
So you and your significant other are cruising down Lake Shore Drive this summer. It hits you: the sudden desire for a little wind in your hair. You'll pull over. Unzip the car from its center, pull each side into an upright position and voilà, you're ready to
Tokyo Drift
your way home.
Keep in mind, they're designed to be powered by electricity, which means you'll probably need a garage with an outlet to park them in.
But feel free to upgrade to a Batcave.