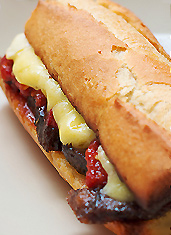 Sometimes it's better to take things slow.
Not in relationships, of course, but in other parts of life.
Like your undergraduate education. Or delivering scissors from one end of the office to the other. Or your food.
So today we wanted you to know that there's a new culinary hombre in town, and he's sort of the food equivalent of the 60 Minute Man.
Say hello to the
Slow Food Truck
, the first chuck wagon in the city to bring you seasonal, straight-from-the-farm, in-no-hurry-whatsoever-to-get-to-you eats, debuting tonight on Biscayne Boulevard.
Think of this orange and gray truck as the mobile embodiment of the earth-loving, rainbow-hugging slow food movement. Meaning: local, sustainably grown ingredients like organic farm eggs, hormone-free cheese, greens plucked from local farmers' markets the same morning and fair-trade coffee.
But that doesn't mean you should lower your taste standards. Under the guidance of chefs who've paid their dues at Gotham Steak and Canyon Ranch, these ingredients will be livening up breakfast tacos, fries and meat-filled sandwiches like the
Short Rib n' Dip Sandwich
and the
Cuban Cowboy
with pork and Southern slaw.
And that pork is slow-roasted.
Obviously.