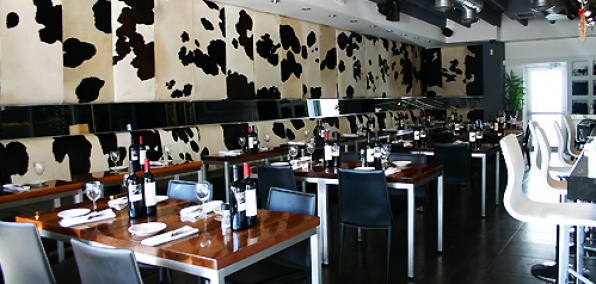 Top-drawer steaks in this town: easy to find.

Top-drawer steaks in this town that won't cost half a payment on one of your pink stretch limousines: harder to find.

Until now.

Say hello (again) to Las Vacas Gordas, an Argentine steakhouse in North Beach that went to bed one night as a no-frills neighborhood spot and woke up as a sexy cowhide-covered date spot for huge skirt steaks and Malbec, now open.

The first big difference you'll notice: the size. (Yes, it matters.) They took over the place next door, so they're twice as large, and they've filled the space with an entire wall now outfitted in Uruguayan cowhides, a new glass-enclosed wine cellar, a new black marble bar and tables made from black walnut (black walnut is the new black walnut).

You'll glide in with a meat-eating stunner and head to a two-seat banquette against said cowhide-covered wall. As she pets the fur, you'll order a bottle of the house Malbec (bottled especially for the restaurant in Mendoza, Argentina) and peruse the menu.

But don't kid yourself—you want La Enrollada, one-and-a-half pounds of skirt steak that's so long (36 inches), it has to be rolled up like a tape measure.

Sort of like if Bubble Tape had a rare-beef flavor.