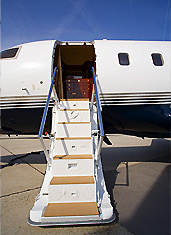 We've all been there.
Your buddy in Vail texts you. "Mountaintop party. 2morrow nite. In?"
Of course you are. Problem is, you're partying in Miami, so you need to get across the country in a hurry. And all commercial flights are booked...
Enter the
O.W.L. Search by Magellan Jets
, a brand-new app that lets you reserve an available empty private jet heading where you're going, now available for your phone.
Think of this as having a private-jet booking agent in your pocket, for those times when you need to get out of town and you realize you've lent your own jet to your buddy (who promised to leave it with a full tank).
So: let's say you get that text from Vail. Simply pull up the O.W.L. search app (it stands for "One Way Leg"), tell it where you are, where you want to go and how many people will be traveling (key if you manage to convince a few Fontainebleau waitresses to accompany you to the Rockies). You'll then be presented with all the available empty seats on flights heading to Vail, and you can book them right through your phone. 
And because they know you can be picky, they'll even show you images of the available jets. Keep an eye out for the spacious and leathery Challenger 601-3A.
No, Air Force One isn't an option. Yet.