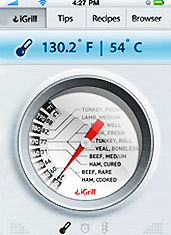 The act of grilling.
A cold beer in one hand. Signed Bobby Flay tongs in the other. Bliss.
But sometimes, you have to step away from the grill. (Your routine involves many apron changes.)
So you need someone you can trust. Or better yet, some
thing
.
Meet
iGrill
, an iPhone app and Bluetooth grill set that will tell you when your steaks are ready, available online now. 
Your first step: picking up the iGrill thermometer/probe set wherever fine probe sets are sold. (Hint: the Internet.) Then, you'll download this app, and fire up the grill.
After you put the probes into the steaks, the thermometer will start sending real-time updates to your phone. Then, you'll start getting alerts when, for instance, the steaks hit medium-rare—kind of like a Twitter account for your rib eyes.
So this Christmas Eve, as you fire up some New York strips for your nephews, Grandma and Katy Perry (you go way back), you may face a holiday-related emergency. (Katy and your grandma are arguing about tax policy. Again.) So you'll stick a probe in each steak and set everyone's cooking preferences, and broker a compromise. Then, you'll hear a beep—the perfectly cooked steaks are ready to eat.
Remember: Katy likes hers medium to medium-rare.