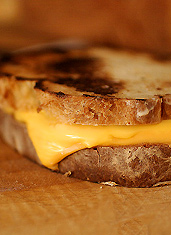 Today, we'll get right to the point. Frigid temperatures and a couple inches of snow have most Washingtonians heading for bottled water, milk and toilet paper.
You're just thinking about grilled cheese.
Here to answer the call:
The
Big Cheese
, a new appropriately named food truck, rolling now in DC and Arlington as an homage to gooey dairy products and slices of bread.
By now, you know the drill: you'll
stalk them on Twitter
or just look for the orange and white mail truck, which existed in a former life as the Rebel Heroes banh mi truck (yes, food truck turnover is officially happening).
You'll stroll up to the side and peruse the chalkboard menu, which will feature a half-dozen or so cheesy selections, most sourced from the local Cowgirl Creamery and Lyon Bakery. 
If you're feeling traditional, opt for the cheddar on sourdough. If you're feeling bolder, there's always the
Appalachian Swiss
(undoubtedly produced via an earmark by Robert Byrd) with sautéed mushrooms on wheat. In any case, be sure to pick up a
Mt. Fuji
(Mt. Tam brie, Fuji apple and honey on multigrain) for your crunchy officemate.
Rounding out your meal: tomato soup for dipping purposes and a dessert sandwich with Nutella and roasted bananas on walnut raisin.
For now, you'll find the truck mostly staking out spots for lunch, but in coming weeks, they hope to expand to evening and late-night hours.
Otherwise known as prime Nutella hours.