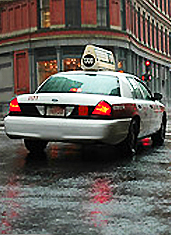 Taxis: a necessary part of urban life.
What isn't necessary: getting in one driven by a lunatic.
And until now, it was always a gamble.
Well, no more...
Presenting
SaferTaxi
, a taxi rating system that gives you some insight on the driver carting you around, now available in Boston for your phone.
So say you're in the South End and headed to a holiday rager in Cambridge (known as ground zero for holiday ragers). As you step inside the cab, you'll enter either the license plate or the cabbie's registration ID into the app. In about five seconds, you'll get the rundown: ratings, reviews and safety records (should a Dead Sea scroll–sized litany of infractions pop up, you may want to hop out and grab another one).
Once your ride is complete, you'll have the chance to give it your own ratings, feedback and tales of smooth sailing/15 car pileups (let's hope it's the former).
And your account also stores reviews. Which means in the event you lost your wallet during a bourbon-fueled bender, you can trace the cab you rode in and hunt it down.
Although if you lost your phone, that creates something of a paradox.