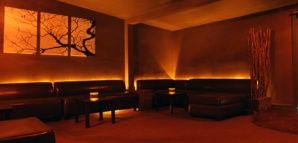 When you find something you like at a bar, you want to bring it home.

We're talking about beer, of course.

Time's come for a pilgrimageto Verdugo, a very Eastside bar for beer connoisseurs—after an extended soft-opening, it's finally open six days a week beginning tomorrow.

An unlabeled spot on a dingy side street, the bar's dark but relatively classy interior works for large groups in the main room's booths or on couches in the back, but those who came to talk beer should grab a stool at the bar. The usual suspects are on tap, but the illuminated corner fridge labeled "To Go" has a constantly rotating cornucopia of rare brews from across the globe that you can take home with you.

Options include SprecherDopple Bock (just 1,500 bottles made), a Belgian quadruple like ThreePhilosophers, or Collaboration Not Litigation, from two breweries who combined their products rather than squabble over the name they shared. (Further evidence that beer brings people together.)

In case you think it's only about beer here, try a tumbler of Colorado whiskey (each bottle's hand-written label identifies the song playing during its distillation) or Viscaya rum (tastes like flan). And lest you think it's all being taken too seriously, they've brought in some regulation beer-pong tables.

But you can leave those at the bar.