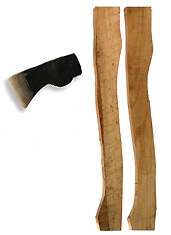 Bucket list ideas:
Base jump off the Eiffel Tower.
Climb Kilimanjaro.
Date a pair of Czechoslovakian supermodel twins (again).
And, of course: handmake your own custom axe.
The first three are up to you. As for that last one, we have something we'd like to show you...
Presenting the
Axe Maker's Kit
, an easy, DIY solution to all of this season's wood-chopping needs, now available online.
First of all: we know. It's not every day you find yourself dreaming of making your own axe, and then—
poof
—there's an email about it waiting in your inbox. But when you think about it, you could probably do with your own handmade axe, because the ones at Home Depot are just so
mainstream
.
Here's how this will go down: you'll place an order, and in a few days you'll receive a package. Open it up to find a kit stocked with everything you'll need to handcraft your very own destroyer of trees (or... late-night intruders).
Think: 20 inches of American hickory, rough cut to allow you to whittle it down to your own exacting handle specifications. Plus: other standard axe-making accessories, like wedges and sandpaper.
And you'll be happy to know that your six-inch, hand-forged axe head comes straight from the Wetterlings company out of Sweden, generally regarded as the filet of axe heads.
No one chops things quite like Scandinavia.