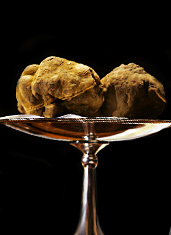 If 2010 were a movie, December's the climax. Everything's just... bigger.
This morning, your commute could've been directed by Michael Bay. Last night, you and Bridges were bar-hopping in some neon outfits. And you can't even talk about Portman, Kunis and the tutus. (Don't worry, your legs looked great.)
So dinner can't just be dinner. In fact, nothing short of 19 courses of truffles will do...
Introducing the borderline-obscene
19-Course Truffle Dinner
, a near-endless night of culinary excess, now available at Bistro LQ.
This isn't the kind of thing that can be a spontaneous drop-in. Whether you're setting up an intimate date (to secure your standing for the entirety of 2011) or an elite little business dinner for some extremely valuable clients, you'll need to book your table a week in advance. That'll give unhinged chef Laurent Quenioux enough time to sort out
the ever-evolving menu
.
When your night arrives, you'll step into the tiny all-white restaurant, take your seat... and dig in. You might see
Cucumber Ice Cream with Truffles
... and
Scottish Hare Truffle Consommé Soup
... and
Truffle Tapioca Pudding
... and
Spiny Lobster with Truffles and Leeks
.
In other words, you'll want to pace yourself.
And you'll probably want 19 wines.