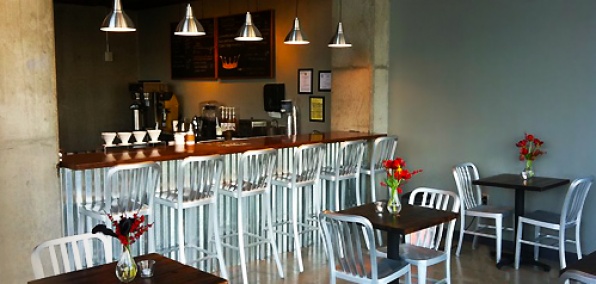 This is only a test.

What you've just experienced was a light dusting of snow.

If this had been an actual emergency, you would have been instructed to proceed directly to the nearest coffee shop with reinforced concrete walls, frothy hazelnut lattes and stunning skyline views.

Actually, you should probably do that anyway...

Introducing Condesa Coffee, your new caffeine-fueled shelter from the relentless threat of weather that kind of almost resembles winter, soft-open now in the Old Fourth Ward.

At the end of the day, you're here for a hot cup of coffee. And in due time, that French press brimming with Intelligentsia will indeed be yours. But as you head to the counter, you'll find yourself gliding through a bare-bones industrial space with towering concrete walls, black leather chairs and tiny wooden tables dotted with Oaxaca Mozzarella Bocatas, Cream Cheese Brownies and steaming mugs of Lavender Pistachio Hot Chocolate.

Suddenly, you're thinking about staying awhile. 

And that only makes sense. Because just across from the front door you'll find a long wooden countertop flickering with candlelight, a floor-to-ceiling wall of windows... and one of the best views of the Downtown skyline the city has to offer.

And soon after the new year, you'll be able to post up in that very same spot with a glass of wine or a craft beer to go along with your macchiato.

In other words, your kind of macchiato.