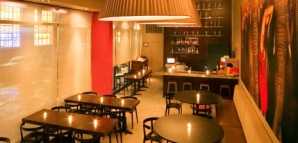 We love the secret club scene, but everyone needs to refuel.
Fortunately, you don't always have to leave the building... just walk downstairs.
It's known as Cafe Bari during the sunny hours, but starting this Sunday—while the upper floor is being transformed into the "secret club" Upstairs—the staff, menu and even the tables at ground level switch out to create a late-night spot called
Downstairs
.  Peek inside any time between 11pm and sunrise and you'll find an oasis full of food, cocktails and nightlife bon vivants like Danny A., Matthew Isaacs and Jordan Harris making the most of the twilight hours.
It may be less secretive than Upstairs, but don't let that fool you. Between red carpet events for the opening and floor-to-ceiling paparazzi-blocking shades, they're ready for the highest-profile scene we've come across recently...in a diner, that is. Of course, your omelet won't get you past the Upstairs bouncer, but we're sure you know a few tricks of your own.
The menu is your standard late-night comfort food—the kind that tastes best at four in the morning—but it's also a richly flavored tour of New York nightlife history with picks like the decadent
Studio 54 Disco Fries
(available in a magnum basket with truffle oil, for high-rollers), the
Wass PizzaMargarita
. (basil and mozzarella, not tequila) and the
Bungalow 8 Chicken Wrap
(yes, it comes with fries).
No word yet on whether the Wass pizza requires a strict guy-to-girl ratio.