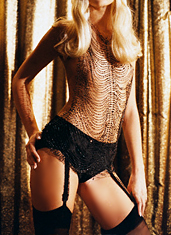 Benefit of the doubt, sure, we'll give it. But every now and again something comes across our desk that just seems... off. In the most intriguing of these situations, an investigation is warranted, albeit a particularly skeptical one. We call it: Skeptical Investigations (copyright pending).

THE CLAIM

It began on the Internet. Rumors. A place called
Saint Venus Theater
. A club that's over a century old, has no physical address and exists purely in the name of erotica (or the ancient art of the lap dance).  
We heard things: uninhibited performances that might not be considered above board by the Strip Club Association of America. Delivered by the girl next door. And accompanied by a huge plate of complimentary baked ziti. Naturally, we had to investigate.
THE INVESTIGATION

Here's what you'll find: an unassuming door. Fronted by a head-to-toe fur-clad bouncer. In his hand, a list of invited members. Just say you're there for the theater and move on.
A few steps inside, you'll find a hostess. In a bikini. Collecting a $40 cover. Then you're in: a small, unremarkable bar, completely devoid of poles, pounding music or mustachioed emcees. Instead, a never-ending stream of barely dressed girls-next-door will pass in and out of your view. Some in lingerie. Some enjoying the ziti. All will be happy to see you.
VERDICT
The club is real. The girls are full of wisdom and life. And the rules are lax-to-nonexistent. Also, if you like Italian food, well, this is your day...