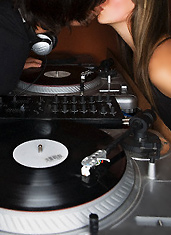 The dating circuit.
Suffice it to say, you've earned a stripe or two. And over the years, you've managed to compile a short yet carefully curated list of unspoken commandments on the matter:
1. If any sentence involving her cat contains more than 13 words, deploy countermeasures.
2. Never trust a Cobb salad eater.
3. If she owns anything resembling a Kenny G album, implement exit strategy immediately.
And while some pitfalls aren't as easily avoided, we think we might be able to help with that last one...
Introducing
Tastebuds
, a new site that links you up with like-minded people based solely on your impeccable (and shared) taste in music, now online.
Just think of this as the people version of Pandora. If you have a Last.fm account, you can kick things off by importing it into the system, or just type in a few of your favorite bands (this may or may not be the right time to reveal your Wilson Phillips obsession). Then you'll upload a photo and filter in a few preferences like age range and ZIP code.
The site is still picking up steam in Atlanta, but once you've finished creating your profile, you'll soon find yourself browsing through a deluge of certain someones who also happen to appreciate the epic vocal stylings of, say, the early works of Kenny Loggins.
Because nothing says romance like Loggins.