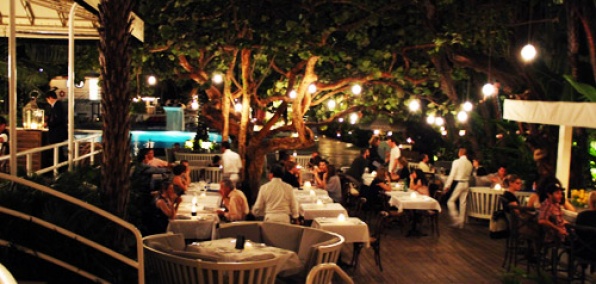 The best Art Basel dinners are never about dinner.

They're about grading the party you've just come from, planning your next stop and wondering if the Italian gallerinas at the neighboring table have an opinion on your new 3-D watercolor Rothko.

So it's going to take a chef with big-city pedigree and a reputation for feeding celebs like Demi and Ashton to hold your attention this week.

Luckily, we found one...

Behold: The Royal, your swanky new courtyard of celeb-studded oyster feasts, officially opening tomorrow night at the Raleigh.

Think of this sceney hideaway—tucked away by the hotel's legendary pool—as a midway point between evening gallery shows and the eventual hedonistic blur of Russian heiresses, French karaoke parties and cigar breaks with Bruce Weber.

Your chef: John DeLucie, who's cooked at the Waverly Inn and the Lion, two hard-to-get-into New York taverns. Which means don't be surprised if you show up here this week and find yourself dining among art collectors, socialites and European DJs.

But come next week, this'll be a quiet and serene oasis on South Beach, where you'll bring dates under the seagrape trees for plates of Colorado lamb chops, shrimp cocktails, Salt-Crusted Fish on the Bone and Beef Carpaccio with truffle paste.

Nothing says romance like paste.