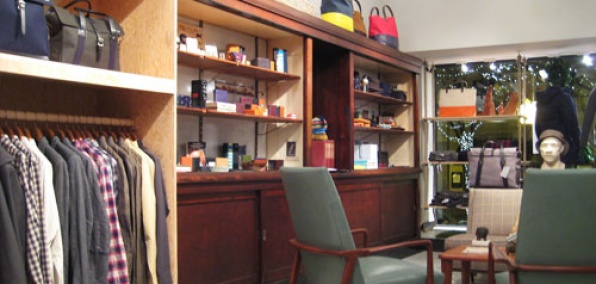 Black Friday is coming. Crowds. Pushing. Shoving. "Feliz Navidad" on a continuous loop. Things will get ugly.

But tonight, things are about to get very, very good-looking.

Welcome to Jack Spade, putting down Oak Street roots today to give you unfettered access to all the messenger bags, quirky wallets and no-nonsense shirts you need. No elbowing required.

You're familiar with the Jack Spade line, but in case you haven't been to one of its shops, the space is stuffed with a mix of mid-century modern furniture, antique cabinets and the occasional leather flask—like the garage sale a trust fund kid has before moving to the coast and opening his own surf shop.

While there's plenty of time for you to dive into their collection of nylon messenger bags and cork wallets, today you need something warm. Grab The Hughes, a soft merino wool V-neck, and a pair of gloves with "rock" and "roll" written on the knuckles. (Perfect for covering your rock and roll knuckle tattoos during Thanksgiving dinner.)

Interestingly, and without apparent reason, the shop sidelines in vintage watches, with Omegas, Bulovas and Gruens dating back to the '40s and '50s. There are only eight in stock, so you might want to get there early.

So okay, some elbowing required.