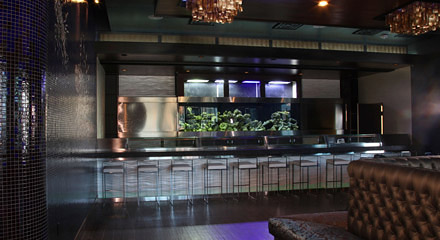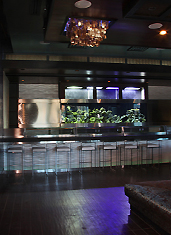 We know you've set your sights on Thursday, and we'd hate to distract you—gravy-centric multitasking requires focus.
But, well, we're going to distract you. With sushi. A DJ. And maybe a few sake-slamming mermaids...
Introducing
Fin Sushi
, a stunning new sushi lounge from the guys behind Sushi Axiom, opening next Wednesday.
If
Waterworld
had ended with Kevin Costner becoming a DJ/sushi merchant, he would've opened a place like this.
The next time you and your gilled friends need to fuel up—preferably under seashell chandeliers—you'll cannonball through the window on Cedar Springs. (Or, we suppose, just use the door.) You'll enter a wonderland where colored lights bounce off blue-tiled walls and the wave-shaped ceiling looks like something out of Jacques Cousteau's bachelor pad.
On intimate occasions—say, a date with
Splash-
era Daryl Hannah—you'll grab a martini at the long bar by the front patio. But most nights, you'll move past the glass wall of wine bottles and slide into a teal banquette facing the sushi bar's massive saltwater tank. Avoid eye contact with the lionfish as you order some hot sake with a
Hibachi Heaven Roll
(hint: jalapeños are involved).
Sometime around 11pm, a DJ will jump into his corner booth and start spinning music. Tables will be moved, chairs will be stacked, and a dance floor will be created.
The Mariner would've wanted things this way.