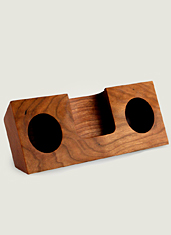 You're no stranger to volume. Your alarm clock goes up to 11. You've got a giant fan to cool your stack of amplifiers. Your volume consultant is Keith Richards.
And yet there are those times (let's call them "workdays") when something a bit more subtle is in order.
Which is why we bring you
Koostik
, an ingenious new piece of wooden craftsmanship for those occasions when you want to turn it up to... 3.
If your home stereo is Iron Maiden, this thing is James Taylor—no wires, speakers or circuits, just solid, resonant wood.
Your job: just pick cherry, walnut or birdseye maple. Then, the next time you want to boost those thin, tinny speakers in your phone, you simply slide it into the dock. When you press play, the dock's hand-carved sound channels pick up the music, amplify it and throw it out of the sound holes at two to four times the volume, much like an acoustic guitar.
And while it might not do justice to the oeuvre of the Insane Clown Posse, it's just the thing for some Sunday morning Wilco.
Or your anthology of harpsichord sonatas.