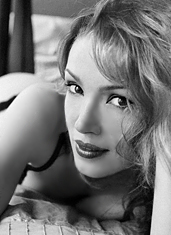 There's no such thing as bad press.  
Especially when it's really, really good press.
Introducing
The Daily Single
, a new daily online magazine devoted to one person and one person only. Possibly you.
Like all the best ideas, this one is simple—find the most dynamic, compelling, attractive individual that you never heard of. Then devote an entire issue to the person's greatness. For 24 whole hours. Then on to the next person.  
Launched recently in NYC by a wayward Frenchman fleeing mimes, beret-clad
auteurs
and other stereotypes, The Daily Single exists to expose you to the type of people that you wouldn't mind sitting next to at a dinner party (or in a hot tub in Aspen).  
Today features a
leggy entrepreneur
, but the site might also feature actresses, demolition scuba divers and very attractive prison guards. Should you find yourself particularly attracted to a certain someone, you can contact them directly through The Daily Single (for a small fee). Or else locate them through a high-tech investigative weapon called The Google.   
And if you're more interested in your Q rating than dating scuba divers, you'll want to mix a strong Manhattan, light some aromatherapy candles and then fill out
the detailed questionnaire
about your own various projects and lusty pursuits.
The lustier the better.