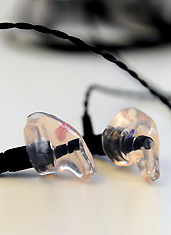 You're no stranger to top-notch audio equipment.
Your home theater was designed by James Cameron. The Boston Pops once borrowed your car's system during the Fourth of July.
Your iPod dock: bigger than your couch.
But your earphones, sadly, have yet to reach the level of supreme audio customization you've grown accustomed to. Until now.
Presenting
Etymotic Custom Earbuds
, earphones custom-molded to the intricacies of your inner ear, now available.
If the suit guy who handles the cut of your jib brought that same level of detail and precision to making fitted earbuds, you'd wind up with something like these.
But a quick head's up: since there's no way to stick a tailor's measuring tape in your ear, you'll first have to use the company's website to locate the closest authorized audiologist, who'll create a molded impression of your inner ear in a painless 10-minute process (we hear it's similar to what Han Solo went through, only ear-based).
Once every last nook and cranny of your hearing hole is perfectly captured, the impression is sent directly to Etymotic's ear-mold lab—a huge white room occupied by leprechauns in lab coats, we assume—where your pair of super-snug earbuds is made especially for you.
And should you lose these, don't worry: the moldings will be kept on file, so you can order up another pair.
Although they're probably just in the couch, like everything else.