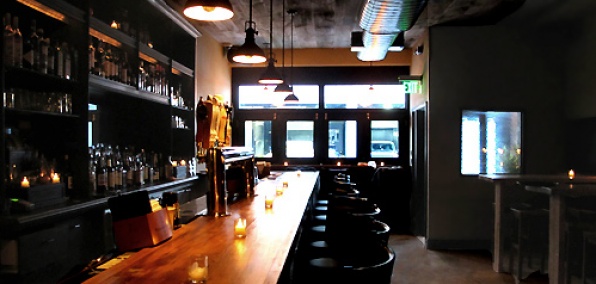 Today we bring to your doorstep news of a far-off land and its untold culinary riches.

We mean that quite literally.

For as a sojourn to the shores of Brooklyn usually requires a trans-river passage, today, Brooklyn is coming to you...

In the modest form of an industrial-looking bar in the West Village called The Brooklyneer—your new bastion of Brooklyn beers, Brooklyn snacks and the vague scent of Coney Island, soft-open now.

It's important to keep in mind that this is not a wholesale import of all things Brooklyn: there's no dirt from Ebbets Field spread along the ground, no classic Beastie Boys on regular rotation and no Bushwick warehouse art-party crowd (you still have to actually cross the bridge for that).
 
Instead, you'll want to arrive at the Brooklyneer, stake claim to one of the oversize wooden booths next to the still-working antique photo booth and prepare for a mini culinary tour of your third favorite borough (we understand your soft spot for Staten Island).
 
At your disposal: Six Point ales, plates of pickles from Brooklyn Brine and neighborhood-themed sliders with Brooklyn-sourced meats and Brooklyn-baked Ovenly buns (we like the jerk chicken Crown Heights).

And if the bar itself smells vaguely of hot dogs and surf, that's because its surface is made from reclaimed Coney Island boardwalk lumber.
  
Appearing in person in the West Village for the first time.