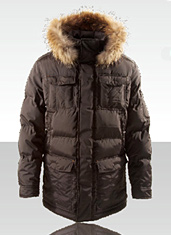 The days are shorter, the air is brisker, the Skins are in disarray.
Yes, winter is nearly here.
And unlike last year, when you dug that massive snow fortress wearing nothing but jeans and a windbreaker, you're going to want to get outfitted this time.
Enter
Snowimage
, only the second American location of the classic Russian outerwear company, now open in pop-up form in Bethesda.
These are the kind of down-stuffed coats you'd wear to harness up the dog team for a trip across Siberia in service to party and country. Although Lenin and the boys never had access to stuff like windproof nylon and elastic armholes to keep the chill out.
You'll want a vest in a subtle blue-green plaid to thwart the coming subzero temps while you're out making your weekend tour of underground vodka societies. But one of the longer waist- or knee-length options—shiny or matte black, some with removable fox- or raccoon-fur hoods—is your ticket when Snowmageddon II rolls in. It's so warm, you probably won't need to wear a shirt under it (you know Putin doesn't).
And if you see something online or in the catalog—say a royal blue hooded number that makes you look like Roger Moore in
For Your Eyes Only
—they'll order it for you from Mother Russia, and apply the same 40% to 60% discount you get in the store.
Also known as the Karl Marx discount.