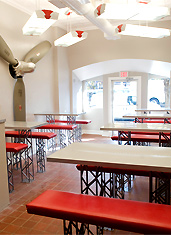 They're flying in from all over the country for their big Capitol Hill debut. They represent Illinois, West Virginia, Philly and Arizona.
Yes, a new class of hot dogs has arrived.
Introducing
DC-3
, an aviation-themed ode to American hot dogs, debuting next week on Barracks Row.
Yes, that's right, we said "aviation-themed." Named after the famous passenger plane, the whole place—done mostly in gray and sheet metal—feels like you're walking through a hunk of fuselage just off the assembly line. You'll stroll in here when you find yourself in need of grilled sausages, bright yellow cheese... and a geography lesson.
First things first: you'll take a look at a giant map on the wall to help you pick the provenance of your dog—
West Virginia Sauce & Slaw Dawg
(chili and coleslaw),
Tucson Sonoran
(bacon-wrapped) and
NYC Street Vendor Dog
(Nathan's dog, steamed bun, mustard and attitude) among them.
Of course, there's local options too, like a half-smoke and a
Bay Bridge
dog topped with crab dip. But we're also happy to report you can upgrade just about any dog on the menu with Cheez Whiz, bacon or sriracha sauce, or ask them to deep-fry it (also known as taking it "state fair-style").
Dog, crinkle-cut fries and bottle of Moxie soda safely in hand, you'll take a seat under the vintage DC-3 propeller on the wall, until your sweet tooth is triggered. Enter soft-serve ice cream and fresh-spun cotton candy.
In the event of a water landing, your hot dog can be used as a floatation device.