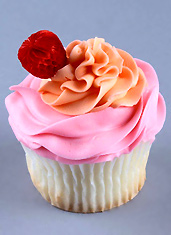 Well, here we are again.
Thanksgiving.
A time to gather around the fire with family and friends, share a few laughs and eat a few glasses of champagne. Ah, the good times.
Oh, and that wasn't a typo, by the way...
Introducing
Cocktail Cupcakes
, an adult cupcakery and delivery service at the ready for your tequila-spiked, rum-laced and champagne-soaked needs, now taking orders.
If there were ever a time of year to eat and drink... while you eat and drink, this would be it. So let's say the big holiday office party is right around the corner (and it is), yet you feel the unavoidable urge to spice things up a bit—while making it look like you brought dessert. You'll go online, order a dozen
Mint Mojitos
(lime cake with dark rum and rum icing) and a few
Champagnes
(self-explanatory), and wait for them to be delivered to your door.
From there, all that's left to do is show up with your boozy bounty and relax. But if you really want to ensure that the copy machines are used to their full potential, we'd recommend the
Patron
, which is pretty much laced with tequila and then topped with... more tequila.
Today we give thanks to Mexico.