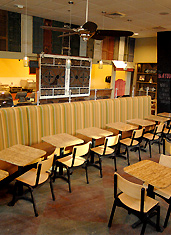 It's going to happen: on a Saturday morning soon enough, you'll wake up to find your body craving something yeasty, fatty and sugary all at once.
That's right: beignets. So hot, you'll even burn your fingers on them. (Heck, you already crossed a bridge for them.)
Presenting
Bayou Bakery
, pastry chef David Guas's quick-serve homage to the French Quarter, opening next week at Arlington Courthouse.
Here's how it will go down: after you take in the reclaimed New Orleans shutters, the alligator head and the vintage outboard motor on the walls, you'll head for the counter. (Hint: the chalkboard above says "Ya Order.") In your best Tremé accent, you'll order, and then you'll take a seat to await the delivery of your little French donuts, along with some chicory coffee and breakfast sandwiches on homemade biscuits.
Then come nightfall, when your needs are less Bayou Munchkin intensive, you and a date can squire away to the partially curtained-off lounge area in back, where you'll take a seat at an old factory cart and pick from Abita beers and American wines. From there, you'll tuck into New Orleans standards like roast beef po'boys and gumbo, as well as hot dogs boiled in beer and salted caramel corn with bacon.
And on the way out, you'll be able to grab pralines, salted oatmeal cookies, jams, and bread and butter pickles.
Provisions for your Louisiana-themed bomb shelter.