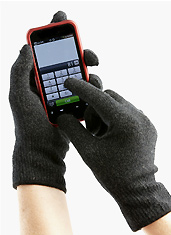 Last week: a strange last-gasp of unusually warm weather this time of year.
This week: back to the chilly temps, with nothing but coldhearted frigidness in your future.
So you can see where this is going: we think you need some gloves to help you use your phone.
Presenting
Agloves
, the hand-warming weaponry you'll need this winter to keep you and your touchscreen phone in operational harmony, now available online.
Think of these as a very basic (and knitted) version of the gloves Bruce Wayne used in
Batman Begins
. Only instead of sending an electrical charge to make cape shapes, these deploy some silver-nylon-fiber science to allow you to use your touchscreen in extremely cold weather (minus 10 degrees) without relying on naked fingers.
So picture it: it's next month, you're outside, and you need to nail down a couple courtside seats (or a mean bowl of chili). You'll slip these on. As opposed to normal gloves, these have silver-coated nylon fibers woven into them, which help transmit the bioelectrical current from your fingers to the touchscreen. In other words, they'll allow you to overcome what some scientists (read: us) call "smartphone numbness."
And because water helps silver release conductive ions, the gloves will work even better in wet conditions, and they're totally washable.
Take note, suede pants.