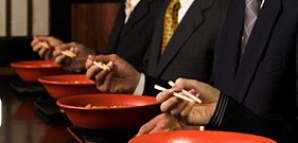 Sometimes you want a big, elaborate feast.

With plates made out of onyx, forks made out of titanium alloy and glasses made out of the same bulletproof glassware that sheiks use when they're touring the Riviera.

Most of the time, actually, this is how you eat.

Other days, you just want a good bowl of noodles.

We have a place for those days…

Introducing American Noodle Bar, your new spot for fast and cheap Asian comfort food, soft-opening this Monday on the Upper East Side.

Tearing a page out of the Red Light handbook, chef Michael Bloise has taken a somewhat seedy location—in this case, the Biscayne Inn—and outfitted it with bamboo wood floors, stainless steel counters and high-top tables. The result: a non-skeevy casual spot for market-inspired, mad-scientist-type Asian dishes. Think: cheeseburger dumplings served with green curry mayo, piping hot $7 bowls of noodles flavored with basil butter or smoked lobster and hunks of smoked duck or pork meatballs.

And about the location—relax. Michy's is just up the street, and there's a Starbucks a block away.

No one ever got hurt holding a latte.