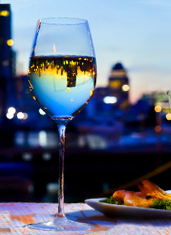 As always, you've pretty much got your Halloween night pinned down to the minute...
10:35:
Jump out of helicopter and parachute into party dressed as Kenny Powers.
10:36:
Get out of pool. Pretend you landed there on purpose. Proceed to wardrobe.
10:47:
Emerge from wardrobe dressed as Butch Cassidy
and
the Sundance Kid. Acquire champagne bottle. Reenter pool.
11:30am:
Discuss what happened the rest of the night over brunch.
Yes, it will be one for the books.
But after all that, you may need a rebound night. You know, something mellow enough to get you back on track, yet... communal enough to keep you interested.
Allow us to suggest the
BeltLine Dinner
, an alfresco dinner party centered around a never-ending communal table, now taking reservations for the Monday-after.
Your evening begins as you and your date pull up to Parish in Inman Park. In the distance, you'll hear the sound of a bluegrass band. Follow it, and soon you'll find yourselves under the stars and in the middle of the BeltLine, standing in front of a giant 100-seat table flickering with candlelight.
Take a seat, exchange pleasantries with the neighbors (before explaining why you're still in costume) and settle in for a family-style feast involving anything from
Smoked Georgia Trout Rillettes
and
Gumcreek Farms Pork
with caramelized squash to apple strudel with brown sugar-bourbon ice cream. And yes, each course will be paired with a different wine.
In case you forgot to leave it all on the Halloween field.