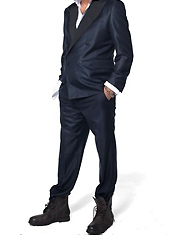 When it comes to your quest for immortality, you've always followed a simple rule: do whatever Keith Richards does.  
And sure, that's taken you to some dark places (waking up in Tangier wearing nothing more than a skull ring and with the cops knocking on your door).  
But every once in a while, it's landed you some, shall we say, good stuff. You know, like a new shirt...
Introducing
Umit Benan
, a new line inspired by a little rock group from London called the Rolling Stones, available online now.  
Think of this as your chance to adopt the look of a rock-and-roll icon without having to go through five decades of dealing with Mick Jagger.  
Your tailor for this journey: Turkish designer Umit Benan. The man cut his teeth under Marc Jacobs, and despite being his third collection (previous thematic inspirations included such bastions of the runway as Cuban drug dealers and taxi drivers), it's his first to come stateside.  
Here you'll find cashmere hoodies and flannel blazers, the kinds of things you'd wear while laying down a track on your greatest hits, or during a night of cigars, scotch and reminiscing about packing stadiums (well, high school stadiums. But still). For some of the items—like a Mick-worthy knee-length leather coat—it might help to have released a couple cash-grab albums (we're looking at you,
Bridges to Babylon
).   
But when it's finally time to make that comeback, you'll want to do so in a pair of... tapered striped sweatpants.  
Because nothing says rock god like sweatpants.