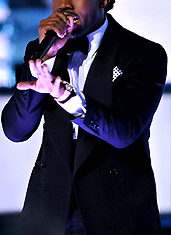 Romo is out.
Which makes the following fact even more paramount: we need Cliff Lee to stay here, even after this year's World Series victory.
Best way we can think of to accomplish that: pay him a lot of money. Second best way: rap to him.
Introducing
Music Greetz
, a website that lets you collaborate with real rappers to create songs about people and things you care about, now taking requests.
So let's say you've decided to compose an urban ditty to the golden god with a thunderbolt of a left arm, praising his abilities and asking him to stay in the Lone Star State. Only, you know nothing about rapping, and you would never actually record your voice on tape and let that tape reach the light of day.
You'll go to Music Greetz, fill out a few boxes and get your "Stay Here, Clifton Phifer" message across to one of three actual, professional lyrical masterminds: Jay Kila (based in NYC), Most Valueable (straight outta Philly) and, probably the best of the bunch, Thunda Dan (HQ'd somewhere in Pennsylvania... he's so good, he can't get more specific than that).
Then, three days later, you'll receive your rap ostensibly the same way Jay-Z gets his: via an email with a Facebook post. Send it to the radio stations and forward it to friends, and by Game 4, you might be looking at a platinum recording.
But we'd wait until your second hit to launch a vodka line...