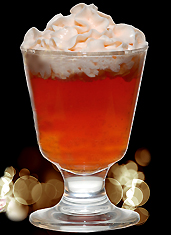 The clock is ticking, so let's run down your Halloween checklist.  
Candy corn, check. Costume, check. (Zombie Mark Zuckerberg.) But something's still missing.
Specifically, whipped cream. Infused with pumpkin pie. Infused with booze. Infused with... That's it, actually. But trust us, it's enough.  
Introducing
Whipped Lightning
, a pumpkin-pie-flavored whipped cream that's infused with the good stuff, available online now.  
So the next time you have a hot chocolate that's lacking the imagination and firepower of a 36-proof, grain-alcohol-fueled topping, you'll reach for this. It's basically a slightly runny alcoholic foam—good for your hot cider, less so for a makeshift bathing suit.  
If this seems like the type of thing that your wet bar or in-development speakeasy malt shoppe requires, you should know there are other flavors, too. Think Spiced Vanilla, Amaretto, Coconut and Strawberry Colada. Use their website to track down an establishment in your area that might sell it. And if it's not yet available in your state, well, then you may just have to get a little crafty.  
If anyone asks, we know nothing about a whipped-cream smuggling operation in Utah.