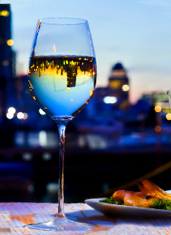 You've dined in some dangerous locales.
Sandwiches on helipads. Steak dinners on patios next to G5s. Hot dogs at Mavs games against teams with Rasheed Wallace.
But you still haven't broken bread in the ultimate danger zone: the middle of an effing street.
Presenting the
Bishop Arts Big Table
, a huge dinner party at one long table in the middle of Bishop Avenue, now selling tickets for next month.
Okay, we admit: it's actually not that dangerous because the street is closed down. But still: it's interesting. And unquestionably gritty. And here's how it'll work: you'll book a couple of tickets (there are 100 available), and come Monday, November 1, you and your date will arrive at a
Vanilla Sky
-like version of the Bishop Arts District: all the shops will be closed, you'll hear live music playing, and there'll be a 150-foot, white-table-clothed table stretching from 7th to 8th right on the center line of Bishop Avenue.
After your
Texas Cosmo
at Hattie's (the only restaurant that'll be open), you'll take your seat, make a quick toast and work your way through six courses, each one prepared by a different chef from Oak Cliff. Think an appetizer from Bolsa, a meat dish from Smoke and dessert from Dude, Sweet Chocolate, all paired with wine.
Next up: a fondue party on Central Expressway...