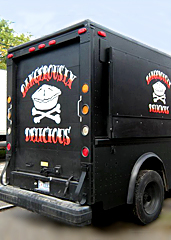 Pie. Sweet, delicious, buttery pie. Take a moment and let that image linger.
Now imagine that pie—dozens of pies, in fact—coming straight to you.
Now stop imagining—it just might be happening, right now, thanks to the
Dangerously Delicious Pie Truck
, rolling now to give you a serendipitous pie fix at all hours.
Imagine if Mötley Crüe started cruising the city in a food truck. That's what this is like (only more sanitary): a mail truck painted all black, except for the skull-and-crossbones-inspired pie logo and a font that looks like it was borrowed from a hair-metal reunion tour.
You'll recognize the menu from their H Street shop. So in the morning: quiche like
Spinach and Goat Cheese
and
Bacon, Onion and Gruyère.
And at lunchtime: savory meat pies like BBQ pork and the
S.M.O.G.
(steak, mushroom, onion and gruyère).
And at night... well, they plan to launch late-night pies as soon as possible (after all, the truck will blend right in). So after you've emerged from your underground den of iniquity,
you might just see them
parked there, waiting to serve you up just what it takes to get you home—tart cherry pie, chocolate peanut butter chess and the
Full Custom Custard
(aka "White Trash Crème Brûlée").
Which should guarantee victory in a pie fight.