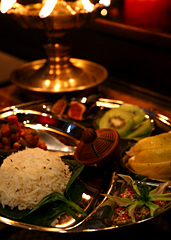 Your lust for an adventurous dining experience has taken you to the farthest corners of the earth and back. Also, Buford Highway.
But for now, let's sharpen our focus to an undisclosed location on the Westside, and how you'll soon find yourself eating dinner there...
With your bare hands. On the floor.
Introducing the
Spice
Route Supper Club
, an underground gathering of hot chai and home-cooked Indian food, now accepting requests for the next dinner on October 30.
The whole thing is pretty hush-hush, but here's what you'll need to know. You'll want to keep tabs on their site for future seatings, and after firing off a quick email to your lovely hostess/chef Asha requesting an invitation, you'll be notified of the location two days prior to the actual dinner (hint: it's her house). And when the day comes, you'll show up around seven, knock on the door and proceed upstairs.
It's there that you and 25 others will soon find yourselves surrounded by hand-carved Indian furniture, ornate tapestries, candlelight... and lots of beer. The theme and menus change, but next time you can expect 21 dishes (you heard us), from
Avial
(a coconut-y vegetable curry) to
Beet Pachadi
, all served in the traditional Indian dining style known as
sadya
.
Which, loosely translated, means sitting on the floor and eating out of banana leaves with your bare hands.
You only eat Avial from banana leaves.