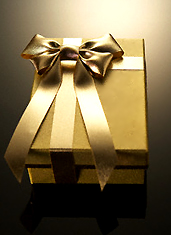 You've been terribly busy lately.
There were important documents to be signed, multimillion-dollar energy deals to be brokered and Kenny Powers mullets to be worn.
So even though it's not your fault, you've missed a few important birthdays. And now you're in the doghouse.
Here to help you climb out of it:
Gifts on Time
, a new website that manages all your anniversary and birthday gift-buying for the year, now online.
Think of it as a virtual personal assistant to keep up with all the important (and not-so-important) dates in your life, so you can concentrate on more pressing matters, like what time Game 4 is tonight (7pm).
Here's how it works: you'll input your contacts and significant dates—everything from your grandparents' wedding anniversary to your girlfriend's dog's half-birthday. Then, you'll select what gift off the site to give each person. Go with the Rocky Mountain Chocolate Sampler for Mom's birthday, the 200 blooms of Peruvian lilies for your six-month anniversary, and send every woman in your life 20 chocolate-covered cherries for the Monday after this year's Super Bowl (just trust us).
Once all your gifts have been scheduled, you can just sit back and wait for the thank-yous to come pouring in.
While you wait, go ahead and send yourself the Sonoma wine set.