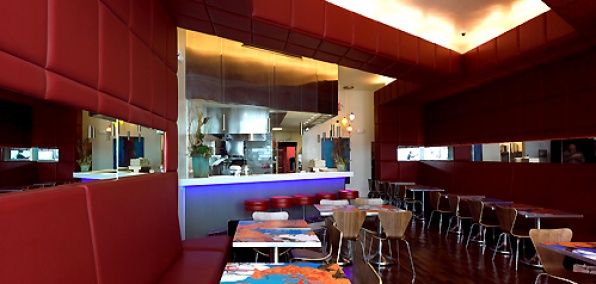 Some of your best ideas come on the heels of a few Manhattans.

Which means, after a night of cocktailing, you need a place that fosters your creativity.

Mac 'n' cheese doesn't hurt either...

Behold Grub, a flashy modern diner dishing out build-your-own mac 'n' cheese and burgers until 1am, opening next Thursday on Valencia.

From the fork-and-knife sign out front to the custom tattoo-art tabletops, wraparound mirrors, red stools and backlit chef's counter, Grub's sort of like an all-American diner with a hint of tasteful European disco (more Pulp Fiction than Saturday Night Fever).

Think of the menu as a paper toppings bar, where everything is listed on the page, and you tell your server your creation. For the burger, you'll start with your choice of meat—anything from beef or buffalo to seared Hawaiian ahi. After that, you add toppings: one of five cheeses like the aged gruyère and extras like applewood smoked bacon and grilled jalapeños. Then they'll put it all together and bring it to you.

Of course, you could get sides like tempura onion rings or shoestring fries, but customizing your mac 'n' cheese with a dozen different toppings means you could opt for the works: lobster, grilled steak and truffle oil.

Lobster/steak/truffle mac 'n' cheese: an idea whose time has come.