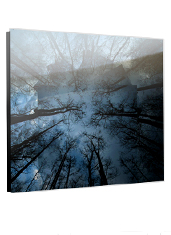 You have this photo.
You know the one: it involves you. A certain famous sports trophy. Copious amounts of pudding. And Kate Moss.
In other words, a classic. Not something you let linger on your computer forever.
This deserves something a little more special, a little more... transparent. Like being permanently turned into glass.
Introducing
Fracture
, a new site that transforms your digital pictures into glass masterpieces, available online now.
Think of this as the digital equivalent of the ice sculpture. At one point in history, this type of thing—screening photos directly onto glass—was reserved for bishops and French monarchs and took years to create. But now, the entire process takes about four minutes.
So say you have a photo that's crying out for the glass treatment—maybe a picture of you sprawled on a bearskin rug. In the Lincoln bedroom. You'll go to the site. Upload a picture. Choose a frame size and shape. And in about 48 hours, that shot will be turned into a high-definition glass picture—as small as 5x7 or, if you want to supersize, as big as the custom 18x24 job.
Not recommended if you live in a glass house.