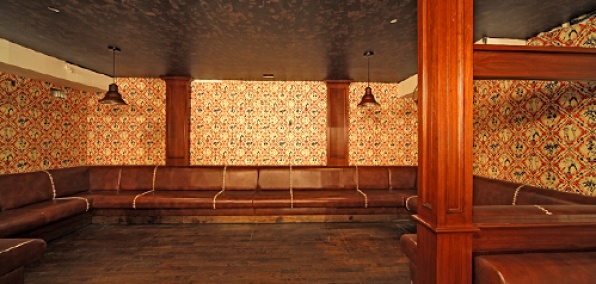 Let's look on the bright side.

The Jets just won four in a row. The Yanks are one step closer to the pennant. The Knicks are... well, they're still the Knicks. But we digress.

Because whether you love those teams or not, the need for a new sports bar transcends any one game.

It transcends any one era. It transcends the entire concept of space and time...

It becomes: Snap, a transcendent sports mecca in the Meatpacking District, soft-opening next week.

Here you'll find no pyramids of PBR, no iconic jerseys on the walls, no peanut-shell carnage spread across the floor. Instead, you'll enter a world that feels like the kind of place you'd have grabbed a beer around the last time the Cubs won a World Series.

There's photos of high school badminton teams from the early 20th century on the walls and banquettes upholstered in football pigskin—because you've never truly watched football until you've watched it while sitting on a football.

And why yes, there is a "Face-Off Table," which might be the biggest disaster-waiting-to-happen we've seen in awhile—it's basically a communal table with each side devoted to fans from opposing teams. So you'll line up, hover over an arsenal of meat pies, housemade pickles and cured meats, and... slowly realize that maybe you're not so different after all.

When not a single ball game, fencing match or dodgeball tournament is on anywhere in the world, Snap will transform into a sultry lounge, complete with a DJ, a PlayStation and maybe even some karaoke.

Nothing says sports bar like karaoke.