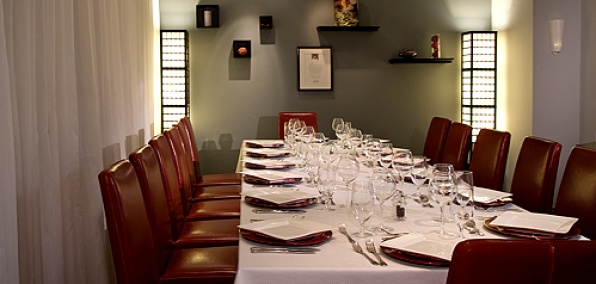 A large communal table: regal, grand, vaguely impressive.

A large communal table inside one of the busiest kitchens in the city: we believe the term is "game changer."

Introducing Table 40, a new hideout for kitchen-adjacent wining and dining, now open at Indigo at the InterContinental.

To begin, you'll have to think a bit like a chef instead of a dinner patron. You'll enter the hotel lobby and then, instead of heading into the restaurant, make a beeline for a set of nondescript swinging doors that lead straight to the kitchen.

That's where you'll find... a kitchen. Pots. Pans. Flames. Shouting. All the stuff you need to make food. Off to the side of this, you'll start off with a glass of sommelier-picked wine as you watch dishes and cooks fly around you (apron optional).

Then, when you've seen enough pasta get drained (granted, it's exhilarating), you'll head back to a small, soundproof room located right across from the main line-cook station. That's where you'll be served a huge feast (courtesy of exec chef/badass Alexander Feher) by an army of tuxedoed waiters—things like Smoked Short Ribs and Lobster Salad with Grilled Mango (whatever you agree on ahead of time).

And while the room fits 14, you can actually reserve it for just two people.

You know the old saying: it takes two to communal dine...