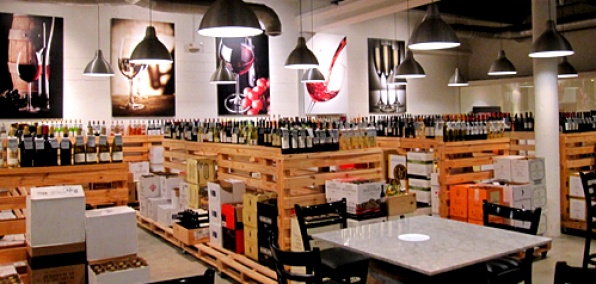 Combining two great things into one mega-great thing is a genius move, whether you're talking about restaurant-ing and arcade-ing (Dave & Buster's) or burrito-ing and chicken-ing (Taco Bell and KFC). Among other fine examples.
Here to consolidate your vino love:
Wine Depot and Bistro 555
, now open in a huge warehouse in South Beach.
It's a half wine shop, half wine bar off Jefferson and Fifth, and to reach it you'll enter the complex through iron gates and pass a courtyard with umbrellas and tables perfect for daytime pinot-sipping.
Inside, you'll find a soaring loft-like space, complete with a bunch of high-top tables and a stainless steel bar, a wine "cellar" in the back (lorded over by the in-house sommelier) and, most importantly, racks and wooden boxes full of the good stuff from France, South America and California. (Try the rooster-labeled Le Coq Rouge, a French red that goes for $10 and can only be found here.)
If you've got a yacht to catch, you can grab a shiraz and run. Otherwise, select a bottle (along with the help of your co-tippler/date), walk it over to a table, have the staff uncork it for $7 and pair it with
platters of homemade foie gras terrine on country bread
and Spanish ham.
This is exactly what the Spaniards would want.