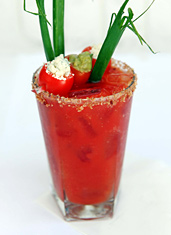 The Cobb salad is magnificent.
It's easily the most delicious salad you can order, it includes just about every food group, and it's one of the best things Ty Cobb ever made.
But today, its legend grows ever more legendary. Because today, it gets liquefied...
Introducing
The Cobb Cocktail
, a new drinkable combination of vegetables, booze and Cobbstuffs, now serving at The Grill in Aventura.
Think of it as the perfect hangover cure... and the one Cobb salad you can eat even if your jaw is wired shut.
But before you start thinking you've found the greatest food/beverage combination man has ever known, allow us to offer up a few caveats. First, this does not include every ingredient you'd find in a typical deluxe Cobb salad. For instance, you won't notice grilled chicken in here. Or hard-boiled eggs. Or even lettuce. (So, sorry—we know you love lettuce.)
But here's what you will find in this Cobb-strosity: crushed bacon (on the rim), homemade tomato juice and Bloody Mary-ish ingredients like Worcestershire, celery salt, lime, Tabasco and vodka. And to give it that quintessential Cobb touch: three cherry tomatoes stuffed with avocado and blue cheese, and a few stalks of green scallions. The result tastes like a Bloody Mary, but with a hint of tangy, smoky bacon.
We recommend chasing it with a club sandwich martini...