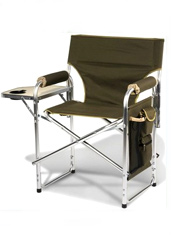 The Pats had a huge win last night. Which reminds you: we're in full tailgating season.
And if it's this cold already, you're going to need a little something extra come November to keep your caboose warm during those epic 9am tailgating sessions at Gillette.
And in case you run out of tequila, there's this...
Presenting the
Heated Portable Chair
, a new way to ensure your buns stay as hot as Brady's completion percentage, now available.
So say you're at the next Pats' home game, and the weather outside is like today, only damper, windier and overall more fall-ier. Just keep this in the trunk of the car (possibly next to your buddy who lost that bet in Fantasy), and after you've unloaded the grill, the meats and the treats, park yourself on it while the ill-prepared are left to suck eggs on a cooler.
If you're worried it won't be hot enough for you, stop worrying—it'll fully toast your tookus from 120 to 140 degrees Fahrenheit. And you'll be warm for quite awhile—the chair stays hot for four hours and works off a battery that's rechargeable. It also comes equipped with a drink tray.
Which can be quickly turned into a Patriots cheerleader sidecar seat.