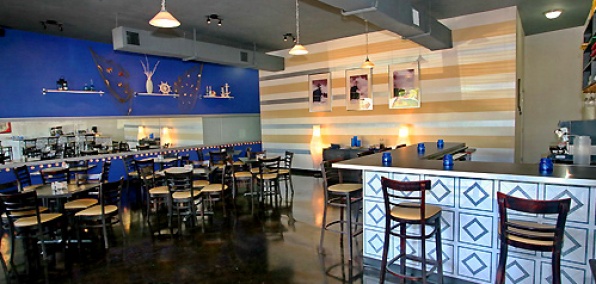 On Mondays like this, sometimes all you want to do is get away to a tiny little Spanish seafood shack. Just you, a senorita, a couple magnums of wine and 20 authentic tapas.

Good news: we can save you a plane ticket.

Say hello to Kantauri, a pint-size seafood tavern inspired by the northern Spanish coast, now open on Biscayne.

It's a small restaurant about the size of a sailboat, and it'll remind you of those windswept tapas bars you helped close down during your post-college travels through Spain. If you've come in with a work colleague to blow off some steam, you'll want to belly up to the tiny six-seat bar, splitting a carafe of sangria as you lazily watch the Barcelona-Real Madrid match above you.

But if you've got something a little more romantic on the docket, you'll want to head to the blue-walled dining area (complete with deep-sea artifacts like anchors, plastic fish and driftwood) and languorously order up a parade of seafood cooked in the Basque style. That means a piping hot bowl of Marmitako (tuna and potato stew), a deliciously sinister Squid in Its Black Sauce or the cod-filled Bacalau with Peppers.

Wine-wise, they've got regional gems like Txakoli, a sparkling, dry white.

Might just want to point to that one.